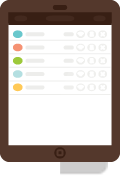 Basic
Free
Core Features for
Up to 100 Entries
a Month
Simple Waitlist Management
Wait Estimates & Tracking
Same-day Reservations
Customer Waitlist View Multi-device syncing Apps for iOS, Android, Web
Multi-location Management
Premium
$19.99/mo
($239.88 Annually)
Unlimited Usage of
All Free and
Premium Features
Reservations Calendar
Customizable Notifications
Analytics and Reports
Add Yourself Web Widget
Self Check-in Kiosk Mode
Customizable Customer Page
Simple Text Responses
Pro
$39.99/mo
($479.88 Annually)
Complete Waitlist and
Resource Management
Solution
Table/Resource Management
Customer Visit Time Tracking
Section and Layout Features
Business Hours & Blackout Days
Flexible Reservation Views
Advanced Customization
Feedback Surveys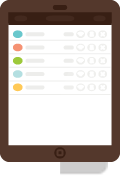 Basic
Free
Core Features for
Up to 100 Entries
a Month
Simple Waitlist Management
Wait Estimates & Tracking
Same-day Reservations
Customer Waitlist View Multi-device syncing Apps for iOS, Android, Web
Multi-location Management
Premium
$24.99/mo
Unlimited Usage of
All Free and
Premium Features
Reservations Calendar
Customizable Notifications
Analytics and Reports
Add Yourself Web Widget
Self Check-in Kiosk Mode
Customizable Customer Page
Simple Text Responses
Pro
$49.99/mo
Complete Waitlist and
Resource Management
Solution
Table/Resource Management
Customer Visit Time Tracking
Section and Layout Features
Business Hours & Blackout Days
Flexible Reservation Views
Advanced Customization
Feedback Surveys
Free
It's easy to check out the core features and see how it works. No credit card required, and it just takes a few minutes to get started. Works on about any device (iPad, iPhone, Android tablets and phones, and computer browsers) with an Internet connection.
Premium
Get unlimited usage and all the main waitlist and scheduling features, plus the flexibility to customize the service to your needs. Simple to understand, use, and manage. At a price that can't be beat.
More about Premium
Pro
Go beyond the waitlist and bookings to more effectively manage a customer's whole visit. Track the time you are serving customers and their status so you can make smarter decisions faster and run things more efficiently.
More about Pro